Five Uses for Glass Dropper Bottles You May Not Know
There is no doubt that the use of essential oils and the rise of diverse health supplements have led to the popularity of glass dropper bottles. These bottles are equipped with various unique features for a variety of applications.
The glass dropper bottle comes with a cap that fits easily over the bottle. One of the biggest benefits of using these bottles is that they give you complete control over the liquid inside, which helps you reduce waste. You can find these bottles in different sizes, so you can choose the one that suits your needs.
The dark color of the dropper bottle means that light cannot penetrate the contents. Also, there are countless medications that require protection from sunlight. In fact, these bottles are considered the safest packaging for pharmaceuticals because it prevents chemicals from circulating into the contents.
Talk about five uses for glass dropper bottles that you may not know about.
Eye drops
One of the main uses for these glass dropper bottles is to store eye drops, as these bottles have a snug fit lid like a dropper. It is entirely up to the user whether to mark the dropper or not.
The main function of these liquid dropper bottles is to dispense a small amount of the liquid needed by the eye, which gives the person using the bottle complete control over the liquid that needs to be dispensed. As such, it helps you avoid over-pumping liquids, thereby reducing waste.
Shaving oil
Troubled by sensitive skin? Or, prone to razor burns? Whatever the reason, you've probably heard about the benefits of shaving with natural oils. These oils prevent razor burns and are safe to store in glass dropper bottles.
Treatment
If you have any type of skin condition that requires oil to help treat or soothe, dropper bottles are your answer. Whether you're storing medication in it or oil to help with symptoms, these bottles make it easy to treat your condition when you need it, without the mess.
Massage oil
If you've had a massage, you know how difficult it can be to dispense and handle multiple open oil bottles. A dropper makes this easier. You can even pre-mix your oil and have it ready to use after you start massaging. Plus, it lets you dispense exactly the amount of oil you want without releasing too much, saving oil and avoiding messes.
Essential oil blend
If you have a blend of essential oils, dropper bottles allow you to pre-mix and keep the blend handy when you need it. This alleviates the need to mix properly when you want to enjoy or use these oils. Imagine the next time you have a headache and want to use a blend of essential oils for relief. You don't have to focus on getting the mixture right, just shake and use the dropper to apply the oil.
Known for their drop-by-drop functionality, these standard glass dropper application bottles are readily available in the market. If you want to buy glass dropper bottles, welcome to
contact us
.
Das Packaging is a professional
custom glass container manufacturer
. We manufacture glass bottles and jars in all shapes and sizes. We can turn your creative ideas into real products, personalized and branded. Our goal is to provide one-stop world-class packaging solutions that exceed your expectations, with service second to none.
These amber glass essential oil dropper bottles are ideal for essential oil, aromatherapy, tincture, serum, beard oil, etc.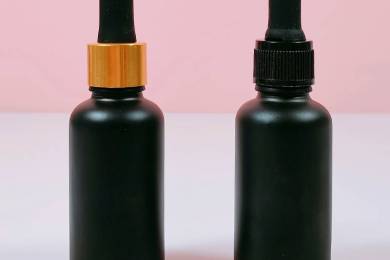 This matte black euro essential oil glass bottle are ideal for essential oil, serum, beard oil, tincture, aromatherapy, etc.